Susan Richardson
Tope
Imagine smelling more
than that drop of blood

in the water

a quarter of a mile away;
more than location, source,
and readiness for sex or eating.
Imagine smelling dolphins' one-eyed sleep,
seastars' tube feet,
the hubris of scuba.
Imagine two nasal tracts,

undistracted by breathing.
Imagine smelling the creeping acidity of sea,

tiny shelled terrors,
chemical errors in the bloodcells
of dab and pouting.
Imagine reading those smells
that are long out of print –
the origin of salt,

oxygen's
historic drift,

misspellings
of sinks

of carbon.
Imagine smelling that urge

to purge an estuary
of its role as a long-term nursery;
her internal stilted hatch of eggs,
the silted stench

of her last

birthing.
Notes:
'Tope' will appear in my fourth collection, due to be published by Cinnamon Press in 2017. I'm currently poet-in-residence with the Marine Conservation Society in the UK, writing poems and running poetry workshops for the organisation's Thirty Threatened Species project. This venture aims to raise wider awareness of the plight of thirty marine species, all of whom appear on the IUCN Red List. They include such iconic creatures as the Atlantic puffin and sperm whale, as well as beings about whom we know comparatively little, like the angel and frilled sharks.

In addition to engaging with the theme of loss, I have an enduring fascination with human-animal/non-human-animal metamorphosis: my most recent collection, skindancing (Cinanmon Press, 2015) focuses exclusively on this subject, exploring both our intimacy with, and alienation from, our animal selves and the wider natural world. This 'becoming animal' theme continues to be present in many of my marine conservation poems-in-progress, where I'm still grappling with such questions as: where is the borderline between humanity and animality? what are the animal possibilities of the self? I'm especially interested in considering these questions in light of the fact that our behaviour (including overfishing, habitat destruction, profligate production of plastic debris) has caused the near-extinction of so many marine creatures. How comfortably may we 'become animal' and 'make kin' in this context?

Much of the language in 'Tope' has been chosen for reasons of sound: my aim was to create a chain of assonance, part-rhymes and words-packed-with-plosives so that the reader is drawn through the poem from sound echo to sound echo, just as the tope shark is drawn, by its extraordinary olfactory ability, through the water from smell to smell.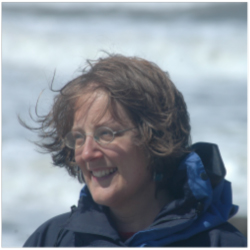 Susan Richardson is a Welsh ecopoet, performer and educator, whose third collection of poetry, skindancing, was published by Cinnamon Press in 2015. Her first collection, Creatures of the Intertidal Zone (Cinnamon Press, 2007), was inspired by her own, and other human and non-human animals', journeys through the increasingly fragile Arctic environment. Where the Air is Rarefied (Cinnamon Press, 2011), her second collection, is a collaboration with visual artist Pat Gregory, focusing on environmental and mythological themes relating to the Far North.

Susan is currently poet-in-residence with both the Marine Conservation Society and the global animal welfare initiative, World Animal Day. She is also the co-founder and poetry editor of Zoomorphic, the online journal that publishes work in celebration and defence of wild animals.
www.susanrichardsonwriter.co.uk

Want to comment on any Issue of Dark Matter, fill out the form here.
---