Kyce Bello
Correspondence with the High Country
Words spill, aconite blossoms
gathered creekside.

Deep purple petals pressed
against the page, smudges

spread across your palm,
dark in the basket's bowl.

Though the stream disappears

into long grasses

and cold ground dips
into hollows,

you go on gathering till morning.
Correspondence with My Garden
The letter came, a white wing

envelope opened
like the sphinx moth
whose careening

maps the garden's scrawled branches,

or the mourning dove
in the apple tree who calls

at dawn before lifting
from her tangled nest near the top.

Every day that moth alights

on each blooming weed.
Every spring that haunting cry

from the fruit tree.
Dryland Canticles
1.
This is the gown I dress in—
silk or coarse wool, lather
of soap root over earth-caked skin.

Belief is no business of the young,
who can pretend anything.

Unwind
the length of your head covering,
that drift of prayer,

that blanket of loomed body
knotted by storms.
Mustang clouds rear,

but when I hold the mirror of river up to the sky,
no rain falls.
2.
If you could only hear.
Soft splashing

of reservoir against stone. Swell

of riverbody
gathered and held.

The road splits and flanks. The boat

was left adrift. You have never heard a sky

like the one
sinking in these blue waters.
2.
Alongside the tin-roofed house
runs this riddle:

place that fills, but is empty.

I tell my story in cairns
set against the banks

and in the bare armed cottonwood

a dozen bushtits leap from small twig
to small twig. Collecting place,

releasing place, water

never held in the hand place.
Oh river. This is your sweet mouth.

Dry sand waiting to be run through.
Notes:
My series of "correspondences" is a communication with aspects of the natural world, including my body, my garden, and the mountains and wilderness closest to me. Text and messages found in the scrawl of branches, the letters of leaf and trail write us back into an ecologic language of place. I spend a lot of time listening for this language—naming and identifying plants and animals as a naturalist would, but also listening for what can never be named— to create a sense of kinship. At some point, though, my attention to the outer world turns me back to rhythms of loss and renewal within myself.

Water and the way its presence and absence shape the landscape, forming a geography of its movement and containment, is an ever present part of life in the high desert. More and more, I am seeing how these features shape my inner life, as well.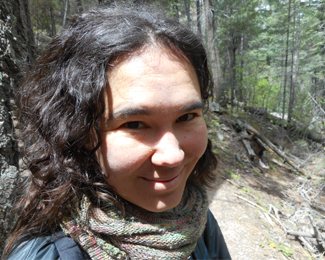 Kyce Bello edited The Return of the River: Writers, Scholars, and Citizens Speak on Behalf of the Santa Fe River (Sunstone Press, 2011), an anthology of literary ecoactivism which received two New Mexico book awards. Of Cuban, Puerto Rican, and Anglo descent, she is an MFA candidate at the Institute of American Indian Arts. Her poems have recently been published or are forthcoming in Written River Journal of Ecopoetics, Taproot, Sonora Review, and elsewhere. She lives under a very old apple tree in Santa Fe, with her husband and two daughters, and writes occasionally about their days at Old Recipe for a New World.

Want to comment on any Issue of Dark Matter, fill out the form here.
---