Deena Metzger
VILLAGE
1981. I moved to a very small house at the end of a dirt road in a rural canyon without, for a time, running water. Alone, and in such a setting, having uprooted a suburban life, I realized I wanted to be a village healer and so I had to constitute a village. Doing so has been an essential part of my life for the last thirty-seven years.
A village is a field of intelligence, inter-dependence and heart. This village formed around the land where I was living. People gathered and healing gifts arose from the fact of the village's existence. Healing gifts, arising from the fact of the village, called the village into being. Village and healing being entirely reciprocal. Coming to the village doesn't mean, however, that one is part of the village. In order for that to occur, one has to offer oneself, has to include oneself. There is always an invitation – but the task is to accept it.
In one form, the village remains centered on this land in Topanga at the edge of a State Park where the wildlife is protected. We began to see it as a Village Sanctuary for a Viable Future for All Beings. But it is also non-local and therefore invisible, but the bonds are no less real. Those who are part of the village may begin to live elsewhere and form other villages. There is no competition. There are only on-going and repeated interconnections.
Because a village is a field, it is relational, multi-dimensional and complex. Likewise, the healing activities, likewise the nature of healing offered and received; we heal in context of each other. Our lives testify to this. The kind of healing that might occur in a medical office can take place in a village, but village healing cannot be duplicated outside a village. In a village, one's body may heal as one's life is healed. Not life style, life. We say community heals and is healed simultaneously.
Sharon Simone, Karen Mutter and Lawrie Hartt are part of the village and have been for many years. We are also a village unto ourselves and they constitute a village among themselves. Village as field is a state of mind, a nexus of relationships, is constituted in the heart. It has many forms and many possibilities.
These pieces on healing, which they have each written, arise from the village, describe village healing and constitute it at the same time. Our own lives healing from the disconnection intrinsic to modern life. We extend ourselves and break down the ultra- hygienic walls of the medical and corporate establishments. Outside, among the eucalyptus trees or in the oak grove, the old ways of being that sustained each person in relationship to all the others and the natural world, as in an ecosystem, flourish.
---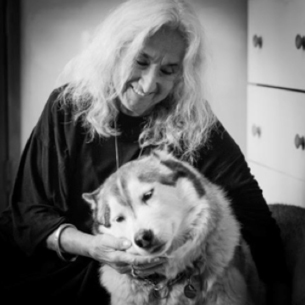 Deena Metzger has been writing for fifty years. Story is her medicine. Her latest novel, A Rain of Night Birds, a confrontation between indigenous knowledge and the modern scientific mind, bears witness: climate change arises from the same colonial mind that enacted genocide on the Native people of this country. It was published on Earth Day, April 22, 2017. Her other books include the novels La Negra y Blanca (2012 PEN Oakland Josephine Miles Award for Excellence in Literature), Feral; Ruin and Beauty: New and Selected Poems; Doors: A Fiction for Jazz Horn; Entering the Ghost River: Meditations on the Theory and Practice of Healing and Tree: Essays and Pieces.
To comment on this article, please click here.
---